September 28, 2020 9:39 AM




Skylar Tinker, the 12-year-old subject of a missing person investigation, was located when he returned to his place of residence.

Police wish to thank the public and media for their assistance.
The Saskatoon Police Service is requesting the public's assistance in locating a missing 12 year old boy.
Skylar Tinker was last seen in the 600 block of 3rd Ave N at 9:00 a.m. on September 24th. There are concerns for his safety as he is new to the city and may be in a vulnerable state.
Skylar is described as, 5'2" tall and approximately 95 lbs. He has short brown hair which is cut in a Mohawk style, brown eyes, and was last seen wearing a blue bunnyhug. A photograph of Skylar Tinker is attached.
Anyone who may have information on his location is asked to contact the Saskatoon Police Service at 306-975-8300.
(Occurrence Number: 20-99065)
ATTACHMENT: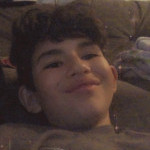 (Click to view full size)