The Saskatoon Police Service has received several reports recently about a text message scam involving parcels.
The complainants reported receiving a text message indicating that they had a parcel waiting for pick-up but additional fees were required in order to collect it. When the victims clicked the link in the text message, they were guided through a series of steps and prompted for their credit card information. A diagram is attached that details the steps victims went through. At the top, the logo is meant to look like UPS, but is IPS.
Police wish to remind the public:
Parcel delivery services will not contact you via text message and request additional funds
Do not click on links in text messages or e-mails from unknown sources/senders
Never give your personal information or credit card information out.
At a time of year when people may be utilizing online shopping, please take a moment to be extra aware of how your parcels are expected to be delivered.
ATTACHMENT: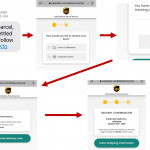 (Click to view full size)