May 4, 2021 8:42 PM




Trendon Bellerose was located and found to be safe.

Police would like to thank the public for their assistance.
The Saskatoon Police Service is requesting public assistance in locating a missing person.
Trendon Bellerose is 26 years old and last had contact with family on March 28.
He is described as 5' 8" tall weighing 190 pounds. He has brown hair and brown eyes. He sometimes wears glasses. He has several tattoos on his arms.
Anyone with information on the whereabouts of Trendon is asked to call the Saskatoon Police Service at 306-975-8300 or Crime Stoppers at 1-800-222-8477.
(Occurrence Number: 2021-40302)
ATTACHMENT: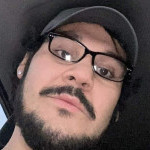 (Click to view full size)