January 12, 2021 9:21 PM




Tegan Brandt has been located and found to be safe.

Police would like to thank the public for their assistance.



January 12, 2021 5:02 PM




Tegan Brandt was last seen January 10, 2021, (not 2020 as previously stated).
The Saskatoon Police Service is requesting public assistance in locating a missing 31 year old Ontario woman.
Tegan Brandt was last seen leaving a hotel in the 600 block of Spadina Crescent at approximately 2:00 p.m., January 10, 2020. Her family and police are concerned about her safety as she is believed to be in a vulnerable state.
Tegan is described as 5'5" in height, 122 lbs, with hazel eyes. She wears a long blonde wig but her natural hair is short and brown with blonde pieces. She also has a septum nose piercing and the following tattoos; a rose on the left hand, the letters TMB on the inside of one wrist and an arrow on the other.
Anyone with information on the whereabouts of Tegan Brandt is asked to contact the SPS at 306-975-8300 or Crime Stoppers at 1-800-222-8477.
(Occurrence Number: 21-3878)
ATTACHMENT: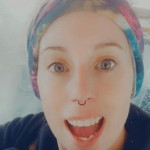 (Click to view full size)