June 14, 2021 9:21 AM




31-year-old, Robert Charlette has been located.

SPS would like to thank members of the public and media for their assistance in the matter.
The Saskatoon Police Service is requesting the public's assistance in locating 31 year old Robert Charlette.
Robert was last heard from on June 12, 2021 at 1:00 PM. He was leaving Saskatoon and going to Prince Albert.
Robert is 6'5"and skinny. He has brown eyes and wears glasses. He has a tattoo of a Toronto Maple Leaf on his right leg and the letters RC tattooed on his left hand.
Anyone with information regarding the whereabouts of Robert Charlette is asked to contact the Saskatoon Police Service at 306-975-8300 or in an emergency, 9-1-1. A photo is attached for distribution.
(Occurrence Number: 2021-58764)
ATTACHMENT: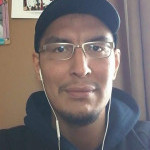 (Click to view full size)