June 16, 2021 3:26 AM




21-year-old, Devon Desjarlais has been located.

SPS would like to thank members of the public and media for their assistance in the matter.
Saskatoon Police are requesting public assistance in locating a 21 year-old man.
Devon Desjarlais, 21, was last seen at approximately 7:00 p.m., June 15, 2021 at his place of residence in the 100 block of McCallum Lane. Police and caregivers are concerned as Devon may be in a vulnerable state.
Devon is described as being 6'0" in height, 190 lbs with a medium build, dark brown hair with facial hair on his lip and chin and brown eyes. He was last seen wearing orange shorts and a black tank top with "Jordan" written on it. A photograph of Devon is attached for distribution.
Anyone with information on the whereabouts of Devon Desjarlais is asked to contact Saskatoon Police at 306-975-8300 or Crime Stoppers at 1-800-222-8477.
(Occurrence Number: 21-59816)
ATTACHMENT: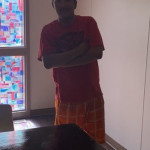 (Click to view full size)