June 16, 2021 10:53 PM




84-year-old, Kenneth Cook has been located.

SPS would like to thank members of the public and media for their assistance in the matter.
Saskatoon Police are requesting public assistance in locating a 84 year-old man.
Kenneth Cook, 84, was last seen at approximately 1:30 p.m., June 15, 2021 at his residence on Luther Place. Police and Family are concerned as Kenneth may be in a vulnerable state.
Kenneth is described as being 5'5" in height, 160 lbs with a slim build, and short salt and pepper hair. He was last seen wearing black pants, a dark green t-shirt under a grey bunnyhug, black shoes, and was carrying a black guitar case with reflectors. A photograph of Kenneth is attached for distribution.
Anyone with information on the whereabouts of Kenneth Cook is asked to contact Saskatoon Police at 306-975-8300.
(Occurrence Number: 21-60040)
ATTACHMENT: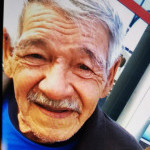 (Click to view full size)