Photo of Jordan Kyplain attached.



July 2, 2021 5:24 AM




The Saskatoon Police Service is requesting assistance from the public in locating a missing person.

Jordan Kyplain 33 years old, was last seen at approximately 12:15 this morning on a stretch of sand on the east side of the river below the Broadway Bridge.

Jordan is described as being 5'10" tall weighing 175 pounds. He has brown hair and brown eyes. He was last seen wearing just a pair of shorts. Jordan has a tattoo on his chest that says "stay hungry stay free".

Anyone with information on the whereabouts of Jordan is asked to call the Saskatoon Police Service at 306-975-8300 or Crime Stoppers at 1-800-222-8477.
ATTACHMENT: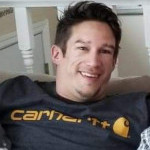 (Click to view full size)