July 5, 2021 10:12 AM




Serina Witchekan, the subject of a missing persons investigation, has been located.

Police wish to thank the public and media for their assistance.
Saskatoon Police are requesting public assistance in locating a missing 27 year old woman.
Serina Witchekan was last seen leaving a home on Centennial Drive, on foot, at approximately 5:00 a.m. July 2, 2021. Her family is concerned that she may be in a vulnerable state given a number of factors including the hot weather.
Serina Witchekan is described as 5'7" in height, 140 lbs, with long black hair and brown eyes. A clothing description is not available. She also has several tattoos including; claw marks on her chest and a tree, a hand print and the words "Never give up" on her back.
Anyone with information regarding the whereabouts of Serina Witchekan is asked to contact the SPS at 306-975-8300.
A photo is attached for distribution.
(Occurrence Number: 21-66855)
ATTACHMENT: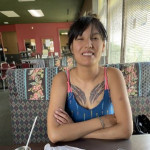 (Click to view full size)