July 15, 2021 11:11 AM




Four year old Lotus Dickson and 24 year old Jade Arcand have been located and found to be safe.

The public would like the thank the public and the media for their assistance.
Saskatoon Police are requesting public assistance in locating a missing 24 year old woman and her 4 year old daughter.
Jade Arcand and Lotus Dickson were last seen at a home on Prince of Wales Avenue in Saskatoon around 10:30 a.m. July 9, 2021.
Jade Arcand is described as 5'8" 250lbs, long black hair with purple tint.
Lotus Dickson is described as 3'7", 52 lbs. short brown hair, green hazel eyes.
There is no clothing description.
Family is concerned for their safety.
Anyone with information regarding the whereabouts of Jade Arcand and Lotus Dickson is asked to contact the Saskatoon Police Service at 306-975-8300
(Occurrence Number: 21-54638)
ATTACHMENT: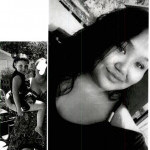 (Click to view full size)