Two people were arrested over the weekend following a robbery investigation.
On June 25, 2021, two individuals reported being the victims of robbery and where physically assaulted by a man and a woman outside of a convenience store in the 3300 block of Fairlight Drive. Following an investigation by the SPS General Investigations Section, the two suspects were identified. Members of the Guns & Gangs Unit located the two suspects leaving a business in the 3300 block of Fairlight Drive at approximately 1:30 a.m., July 24, 2021. They were arrested without incident.
At the time of the arrest, the 20-year-old male was in possession of a sawed-off rifle and ammunition. The 20-year-old female was in possession of bear spray and a knife. Both individuals were also in possession of cocaine. A photo is attached.
In addition to Robbery, the two are facing weapons- and drug-related charges. (Court Info #'s 991167533, 991167534)
(Occurrence Number: 21-64229)
ATTACHMENT: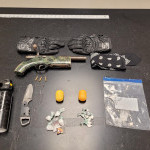 (Click to view full size)