July 26, 2021 9:02 PM




15 year-old Torin Corbett has been located and found to be safe.

The Police would like to thank the public and the media for their assistance.
Saskatoon Police are requesting public assistance in locating a 15-year-old boy.
Torin Corbett, 15, was last seen at approximately 4:00 p.m., July 25, 2021, when he was dropped off at a mall in the 2300 block of Preston Avenue South. Police and family are concerned as Torin may be in a vulnerable state.
Torin is described as being 5'8" in height and 220lbs. He was last seen wearing light blue pyjama pants, a black t-shirt, blue glasses and a black hat. A photo is attached for distribution.
Anyone with information on the whereabouts of Torin Corbett is asked to contact Saskatoon Police at 306-975-8300 or Crime Stoppers at 1-800-222-8477.
(Occurrence Number: 21-76905)
ATTACHMENT: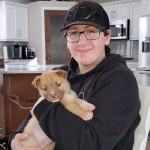 (Click to view full size)