The Saskatoon Police Service is requesting the public's assistance in locating Patricia Ann Wall.
Patricia is 75 years old and was last seen at 2:30pm in the 900 block of Sask Crescent on July 29, 2021.
Patricia is 5'7", 120 lbs. She has very long white hair pulled back in a ponytail with a black scrunchy. She was last seen wearing black jeans, black shoes and a purple plaid shirt. wears glasses.
She may be driving a red 2014 Honda CRV, SL 398IUS.
A photo is attached for distribution.
Anyone with information on Patricia's whereabouts is asked to contact Saskatoon Police at 306-975-8300 or Crime Stoppers at 1-800-222-8477.
ATTACHMENT: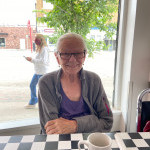 (Click to view full size)