August 11, 2021 8:33 PM




The two 14 year old missing children have been located safe and are with their Families.

The Saskatoon Police Service wishes to thank the public and media for the support and assistance.
Lorelle Mike, 14 years old, and cousin, Anna-Lynn Lerat, also 14 years old, missing since coming to Saskatoon on their own on 21-08-10. No clothing description available. If anyone has seen the girls or has information on their whereabouts, please contact the Saskatoon Police Service at 306-975-8300. Related occurrence numbers 21-82481, 21-83706. Pictures attached (The picture of Lorelle Mike shows light coloured hair and facial jewellry with light coloured glasses. The Picture of Anna-Lynn Lerat shows longer dark coloured hair and dark coloured glasses.
(Occurrence Number: 82481)
ATTACHMENT: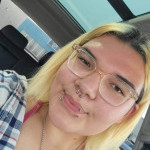 (Click to view full size)