October 1, 2021 5:46 PM




Sophia Wieczorek has been located.
Saskatoon Police are requesting public assistance in locating a 96-year-old woman.
Sophia Wieczorek, 96, was last seen leaving her place of residence in the 2300 block of 20th Street West at approximately 9:00 a.m., October 1, 2021. She was last seen travelling eastbound on 20th Street West on foot. She is believed to have a four-wheeled walker with a basket. Family is concerned as this is an unusual amount of time for Sophia to be gone without checking in.
Sophia was last seen wearing a brown-ish/purple knitted sweater and possibly brown pants. She also has an accent.
A photo is attached for distribution.
Anyone with information on the whereabouts of Sophia Wieczorek is asked to contact Saskatoon Police at 306-975-8300.
(Occurrence Number: 21-105486)
ATTACHMENT: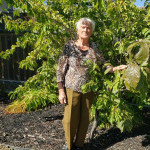 (Click to view full size)