The Saskatoon Police Service is requesting the public's assistance in locating 16 year old Tabitha Shulz.
Tabitha was last seen on October 8, 2021 at 8:15 a.m., in the 1300 block of Temperance Street.
Tabitha is described as 5'3" 100lbs, shoulder length dirty blonde hair, green eyes and straight teeth. It is unknown what she was wearing when she left.
A picture is attached for distribution.
Anyone with information on her whereabouts is requested to contact the Saskatoon Police Service at (306) 975-8300.
ATTACHMENT: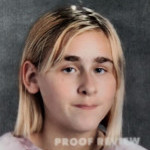 (Click to view full size)