The Saskatoon Police Service is requesting assistance in locating a man wanted for Aggravated Assault.
Everett Joseph Desjarlais (DOB 1990-11-29) is described as 5'11" in height, approximately 216 lbs. with black hair and brown eyes. He has numerous tattoos including "Finesse" on the left side of his head, "Love Loyalty" on his neck, a hummingbird on his neck, "Bridge City" and a skull on his chest, and numerous tattoos of skulls, money, trees and graves on both of his forearms. A photo is attached for distribution.
Desjarlais is the suspect from a shooting incident that occurred on February 13th, 2022, at around 11:45 p.m. That night, police received a call regarding a man who had been shot in the 100 block of Avenue V North. The 36-year-old victim was taken to hospital with serious, but non-life threatening injuries.
Anyone with information on Everett Desjarlais' whereabouts is asked to avoid approaching him and call 9-1-1 or 306-975-8300. Desjarlais is believed to be in possession of a firearm. Anyone wishing to provide information but remain anonymous can call Crime Stoppers at 1-800-222-8477.
(Occurrence Number: 22-16621)
ATTACHMENT: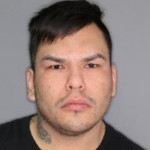 (Click to view full size)