May 30, 2022 8:47 AM




Mary Kitchener, the subject of a missing persons release, has been located and found to be safe.

Police would like to thank the public and the media for their assistance.



May 26, 2022 3:38 AM




The correct spelling for the name should be Mary Kitchener
Saskatoon Police are requesting public assistance in locating a missing 14 year old.
Mary Kitchner was last seen in the morning of May 25, 2022 in the 1600 block of Ave D. N. Mary may have been seen in the downtown area later in the day.
Mary Kitchner is described 5'0", 130lbs. with blue hair. Mary was last seem wearing a white sweater with rainbow on the sleeves, a black hat with a rainbow and grey sweats.
Photo attached for distribution.
Anyone with information is asked to contact the SPS at 306-975-8300.
(Occurrence Number: 22-57098)
ATTACHMENT: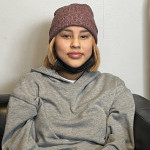 (Click to view full size)