The Saskatoon Police Service Crime Reduction Team has arrested a man in connection to a drug trafficking investigation
On June 2nd, 2022, at approximately 7 p.m., with assistance from the SPS Tactical Support Unit, a 39-year-old man was arrested in the 400 block of Ludlow Street. He was suspected to be trafficking cocaine and methamphetamine, and had access to firearms.
A search of the 39-year-old recovered:
A loaded sawed off shotgun
40.1 grams methamphetamine
27.2 grams cocaine
11.8 grams buff
34.1 grams cannabis
1 MDMA pill
85 - hydromorphone pills
80 - 100 mg morphine pills
Numerous other pills scheduled under the CDSA
Drug packaging, scale, and a cell phone
$40.00 cash.
CRT investigators and TSU officers were then authorized for a search warrant, at a residence in Waldheim, Saskatchewan. The subsequent search recovered:
A loaded .357 revolver and ammunition
Dismantled (but functional) bolt action rifle
Firearm parts
Various rounds of ammunition
Soft body armour
1 morphine pill
6 cellular devices
Packaging, scales and other indicia indicative of drug trafficking
The 39-year-old man is charged with Trafficking x2 (Cocaine and Methamphetamine), Possession for the Purpose of Trafficking x2 (Cocaine and Methamphetamine), Possession of the Proceeds of Crime, Possession of a Dangerous Weapon, Carrying a Concealed Weapon, and numerous other drug and weapons related charges.
(Court Information Numbers: 991198551, 991198553, 991198573, 991198575)
(Occurrence Number: 22-55931)
ATTACHMENT: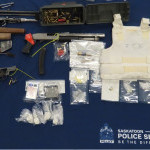 (Click to view full size)