The Saskatoon Police Service Major Crime Section has laid another charge in connection to the homicide of Megan Gallagher, and are looking for assistance locating another suspect.
44-year-old Roderick William Sutherland (1978-02-07) was arrested on October 4th, 2022 by Prince Albert RCMP. He was previously charged in the investigation, with Indignity to Human Remains, and now faces an additional charge of First Degree Murder. He will appear before a Justice of the Peace this evening.
The SPS is requesting the public's assistance in locating 24-year-old Summer-Sky Henry (1998-7-16). A warrant has been requested for First Degree Murder, in relation to the Megan Gallagher homicide. Henry also has unrelated outstanding criminal code warrants including; Unlawful Confinement, Aggravated Assault, Robbery, Firearm Offences, Drug Charges, and Failing to Comply with a Court Order. Investigators are asking anyone with information regarding the whereabouts of Summer-Sky Henry to call 306-975-8300 or Crime Stoppers at 1-800-222-8477. A photo of Henry is attached for distribution. If you see her, police request you do not approach, and call 9-1-1 immediately.
At this point, investigators of the Major Crime Section do not anticipate any further charges and believe that they have identified everyone that was involved in the death of Megan Gallagher. However, investigators will continue to accept tips and information from the public regarding the investigation.



September 29, 2022 11:02 AM




The Saskatoon Police Service Major Crime Section has arrested another man and charged him with the unlawful confinement and aggravated assault of Megan Gallagher. This is the eighth person arrested in connection to the investigation.

On September 29, 2022, SPS investigators attended to a correctional facility on the Beardy's and Okemasis' Cree Nation to effect the arrest of Robin Tyler John, age 34 (DOB 1988/07/07); he was incarcerated on an unrelated sentence at the time of his arrest. John was transported to SPS Detention and remains in police custody; he is expected to appear in Saskatoon Provincial Court on Monday, October 3, 2022 at 9:00 a.m.. Investigators anticipate additional arrests as the investigation progresses.

At this time, a planned search for Megan has begun in the St. Louis, SK area. Anyone with information believed to be relevant to the investigation or planned search can contact the SPS directly at 306-975-8300 or report it anonymously through Crime Stoppers at 1-800-222-8477.
(Occurrence Number: 20-101586)
ATTACHMENT: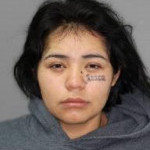 (Click to view full size)