The Saskatoon Police Service has arrested a 21-year-old man in connection to a firearms investigation.
On March 7, 2023, the SPS Guns and Gangs Unit received information that a man was unlawfully in possession of a firearm, in the 1700 block of 20th Street West. That night, at approximately 10 p.m., a 21-year-old man was arrested just outside the residence, as a result of the ongoing investigation. A search warrant was then executed at the residence, and investigators located a loaded shotgun and ammunition inside.
A 19-year-old woman was also arrested from the residence on unrelated warrants.
The 21-year-old man faces charges of possession of a firearm knowing its possession is unauthorized, unsafe storage, and breach of conditions.
Both will appear in Saskatoon Provincial Court this morning.
(Court Information Number: 991225184)
(Occurrence Number: 23-26381)
ATTACHMENT: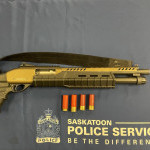 (Click to view full size)