March 12, 2023 4:55 AM




Liam Tipiskoweesic, the subject of a missing person investigation, has been located safe.

Police would like to thank the public and the media for their assistance.



March 11, 2023 7:20 PM




The previous release should have indicated March 10, 2023 as the date last seen.
Saskatoon Police are requesting public assistance in locating a missing 10 year old boy.
Liam Tipiskoweesic was last seen at approximately 3:30 p.m, March 10, 2003, at a school in the 300 block Avenue Q North.
Liam is described as 4'9" in height, 97lbs in weight with short brown hair with brown eyes. He was wearing green framed glasses, a black and blue Dragonball Z hat, a black and green camouflage jacket, black or grey camouflage pants and black and white Nike shoes.
A photo is attached for distribution.
Anyone with information is asked to contact the SPS at 306-975-8300.
(Occurrence Number: 23-30819)
ATTACHMENT: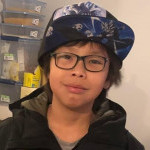 (Click to view full size)