Today, the Bolo Program announced Canada's top 25 most wanted fugitives with Jonathan Ouellet-Gendron taking the 10th spot. Ouellet-Gendron is the first suspect to be featured on the Bolo Program's most wanted list for a crime committed in Saskatchewan. It is also the first time the Saskatoon Police Service has partnered with the Bolo Program in an effort to apprehend a fugitive.
Jonathan Ouellet-Gendron is wanted for first degree murder by the Saskatoon Police Service following a homicide that occurred on May 19, 2022 in the 700 block of Melrose Avenue. He is described as being 5'6" in height and approximately 140lbs with black hair and brown eyes. He has several tattoos including a Mayan statue on his right hand, a black rose on his left wrist, and a gorilla on his upper torso.
Ouellet-Gendron is believed to be armed and dangerous. Members of the public should not approach him. Anyone with information on the whereabouts of Jonathan Ouellet-Gendron is asked to call 9-1-1 or 306-975-8300. Anonymous information can also be provided to Crime Stoppers at 1-800-222-8477 or www.saskatooncrimestoppers.com. A poster is attached for distribution.
Background: www.saskatoonpolice.ca/news/2022209
The Bolo Program is a breakthrough initiative leveraging social media, technology, and innovative engagement; reaching citizens at the right time, in the right place, and by using the right means to encourage them to be on the lookout for Canada's most wanted. The program amplifies priority wanted notices for which Canadian police services have already requested the public's assistance. In cooperation with Canadian police services and Crime Stoppers, the program launches amplification campaigns to reach wider audiences for these notices, on multiple platforms and over extended periods of time, and offers major financial rewards as incentives for citizens to be on the lookout and submit tips to the authorities.
Web: www.boloprogram.org / Media: info@boloprogram.org
ATTACHMENT: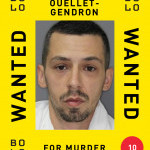 (Click to view full size)