Members of the Saskatoon Police Service Drug Unit have concluded a four-day investigation into the drug trafficking activities of two British Columbia men.
On May 16, 2023 at around 12:00 p.m., the SPS Drug and Tactical Support Units conducted enforcement action on two men suspected of drug trafficking; they were arrested at a business in the 600 block of 2nd Avenue North without incident.
Following the execution of two search warrants at addresses in the 900 block of Feheregyhazi Boulevard and 300 block of 6th Avenue North, police seized;
$25,926 CAD
4.22 kilograms of methamphetamine
483.73 grams of crack/cocaine
137.84 grams of pink fentanyl
Modified handgun; loaded
Multiple mobile phones
Paraphernalia consistent with drug trafficking
As a result, 23-year-old Sheldon Narayan and 24-year-old Calvin Kam, both from British Columbia, are facing several charges relating to drug trafficking and possession of the proceeds of crime. Sheldon Narayan has also been charged with firearms-related offences and was wanted on a Canada-wide warrant out of British Columbia for drug trafficking. Both men have associations to Project Rancid; an operation enforced by the SPS' Drug Unit on May 4, 2023 disrupting a street-level drug trafficking group in Saskatoon.
(Court Information Numbers: 991232102, 991232104, 991232100)
(Occurrence Number: 23-57008)
ATTACHMENT: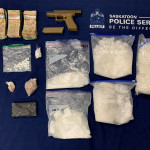 (Click to view full size)