May 26, 2023 8:40 PM




The 14-year-old subject of a missing persons investigation has been located and found to be safe.

Melissa Ross-Stewart had been last seen on May 24, 2023.

The SPS would like to thank the public and the media for their assistance.
Saskatoon Police are requesting public assistance in locating a 14-year-old youth.
Melissa Ross-Stewart, 14, was last seen at a residence in the 10 block of Davidson Crescent at approximately 4:00 p.m., May 24, 2023.
Melissa is described as 5'2" in height, 110 lbs, with shoulder-length brown hair with faded blue/green roots, and a rose tattoo on her right arm. She also wears glasses. She was last seen wearing a white hoodie and dark jeans.
Police and caregivers are concerned as she may be in a vulnerable state.
Anyone with information on Melissa's whereabouts is asked to contact Police at 306-975-8300 or Crime Stoppers at 1-800-222-8477.
(Occurrence Number: 23-65484)
ATTACHMENT: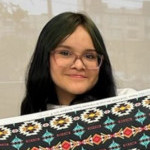 (Click to view full size)