The Saskatoon Police Service is requesting assistance in locating a man charged with Aggravated Assault.
Robert (Bobby) Paul OUELLETTE (DOB 1981-09-16) is described as 5'9" tall, 190 lbs, with brown hair and brown eyes. Ouellette is the subject of a aggravated assault investigation that occurred on January 24th, 2023, in the 2000 block of 20th Street West. That day, police received the report of a man who had been stabbed. Upon arrival, officers found an 83-year-old man suffering from injuries, consistent with stab wounds. He was transported to hospital in stable condition.
Ouellette is charged with Aggravated Assault in connection to this incident.
Anyone with information on Bobby Ouellette's whereabouts is asked to avoid approaching him and call 9-1-1 or 306-975-8300. Anyone wishing to provide information but remain anonymous can call Crime Stoppers at 1-800-222-8477
(Occurrence Number: 23-10676)
ATTACHMENT: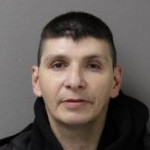 (Click to view full size)