September 8, 2023 1:09 PM




Members of the Major Crime Section have located, arrested, and charged 33-year-old Cary Daniel Bluebell with the second-degree murder of Melissa Bear. He was arrested in Saskatoon on September 7, 2023 following a brief foot pursuit with police. Outstanding warrants unrelated to the homicide were also executed upon his arrest. He is expected to appear in court at 9:00 a.m. on Monday, September 11, 2023.

Police thank members of the public and media for their attention to the matter.

(Court Information Number: 991243256)
The Saskatoon Police Service is requesting public assistance in locating a person of interest connected to the city's most recent homicide.
Investigators with the Major Crime Section are looking for 33-year-old Cary Daniel Bluebell. Bluebell has warrants for his arrest and is a person of interest in the August 29th homicide of Melissa Bear.
Bluebell is described as being 5'8" in height, 168lbs, with a medium build, short black hair, and brown eyes. He has a tattoo of a dagger on his right wrist, the word/letters "ILL" on the knuckles of his right hand, and the letters "DTB" on his upper left arm.
Anyone with information on the whereabouts of Cary Daniel Bluebell is asked to contact Saskatoon Police at 306-975-8300 or Crime Stoppers at 1-800-222-8477.



August 30, 2023 8:07 AM




Saskatoon Police are investigating a homicide that occurred last night.

At approximately 10:20 p.m., August 29, 2023, patrol officers responded to a residence in the 1100 block of St. Paul's Place after it was reported a woman appeared to be injured inside. Upon arrival, Police located a 33-year-old woman. She was transported to hospital where she succumbed to her injuries a short time later.

Her name is not being released at this time.

Detectives from the Major Crime and Forensic Identification Sections are investigating.

This is Saskatoon's eighth homicide of 2023.
(Occurrence Number: 23-115011)
ATTACHMENT: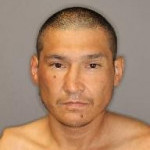 (Click to view full size)