Saskatoon Police are requesting public assistance in locating a 49-year-old woman.
Christy Desjarlais, 49, was reported missing on September 3, 2023. It is believed she may have been seen in July 2023 but a location is not known at this time. Family and police are concerned as she is believed to be in a vulnerable state.
Christy is described as being 5'7" in height, 125 lbs with a slim build. She has a fair complexion, dyed dirty blonde, short hair, and brown eyes. She also is reported to have glasses, but does not often wear them. A clothing description is not available.
Anyone with information on the whereabouts of Christy Desjarlais is asked to contact Saskatoon Police at 306-975-8300 or Crime Stoppers at 1-800-222-8477.
(Occurrence Number: 23-117475)
ATTACHMENT: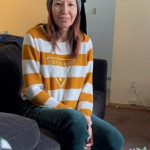 (Click to view full size)