Volunteer Program
The Saskatoon Police Service recognizes the value that Saskatoon citizens bring to our organization on a daily basis, and looks forward to developing and strengthening this partnership for years to come.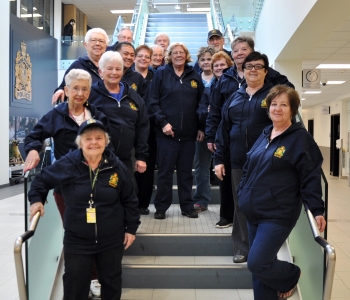 The Volunteer Program combines the efforts of the police with the diverse group of people from our community. This select group of volunteers has been chosen to represent the department at various events throughout the year. The program has a dual purpose: to allow residents to gain a better understanding of the police service while allowing city police more insight into issues facing the community. By serving our community together, Saskatoon Police and its corps of volunteers hope to strengthen personal relationships and build a strong working environment that will benefit everyone.
The Saskatoon Police Service receives input from the Saskatoon Police Service Association and CUPE Local 59 to identify tasks that will be suitable for the volunteers to participate in.
Volunteers participate in functions such as; the Badge Shield & Star Dinner, the annual Police BBQ, Recruit Swearing-In Ceremonies, Platoon BBQ's, as well as other police and community activities. A number of volunteers have taken part in the Saskatoon Police Service Community Police Academy.
If you are interested in participating in the Volunteer Program please complete and submit a Volunteer Program Application to PoliceService@Saskatoon.ca.