Crime Free Multi-Housing (CFMH) for Property Owners and Managers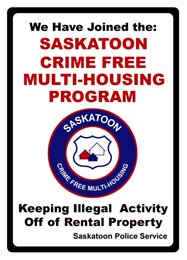 Save yourself time and money, and decrease the chance for crime in your buildings with Crime Free Multi-Housing (CFMH). We work with you to create safer buildings that have less property damage, and more satisfied tenants. We've seen a 36% reduction in crime in CFMH certified properties!
CFMH empowers tenants to actively reduce and/or report crime. We help you make your tenants feel safer & happier.
Take 3 Steps for CFMH Certification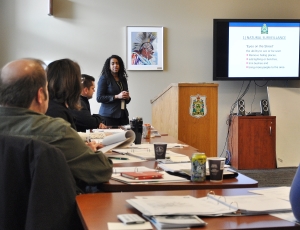 1. Phase 1 Owner and/or Property Manager Training
A day-long, affordable training that teaches you how to:
combat illegal activities (drugs and gangs);
thoroughly screen tenants;
engage successfully with Office of Residential Tenancies;
assess and improve your building's security.
2. Phase 2 (FREE) Inspection:
Crime Free Multi-Housing staff inspect, (day and night), for these security features:
Crime Free Multi-Housing 9 Point Inspection
CFMH shares tips on where to find what you need to improve the security of your building.
3. Phase 3 Tenant Safety Social:
With the support of CFMH staff, the Owner/Property Manager promotes a safe rental community by hosting an annual Safety Social for tenants. A Police officer shares crime prevention tips. This event offers managers and residents a chance to get together and address safety and security issues, share improvement ideas, and have some fun.
Ongoing Benefits of being part of CFMH
Get daily Saskatoon Police updates on any crimes that affect your buildings. Quickly learn about broken windows, noisy parties or more serious crimes.
CFMH certified properties receive free advertising to thousands of tenants each year.
Access affordable, relevant, ongoing training and information, to make your job easier.
Certified CFMH buildings can use the Saskatoon Police Service Crime Free Addendum. New tenants who sign this legal document are making a commitment to live crime-free within your building. If illegal activity does arise, CFMH may share the details of the crime with you, which can assist with tenant eviction.
Reduced crime will help lower maintenance and repair costs, and increase your property value.
Helpful Resources & Contacts