August 18, 2019 10:33 PM




Jerome LASAGA has been located safe and sound. The Saskatoon Police Service would like to thank the media and public for their assistance.
Saskatoon Police are requesting the assistance of the public in locating a missing 26 year old male. Jerome Lasaga was last seen on August 16, 2019 at approximately 10:00p.m. in the 400 blk Ave S S.
Jerome is described as 6'0" tall, 200lbs, short brown hair, with brown eyes, and a thin goatee.
A picture is attached for distribution.
Anyone with information on his whereabouts is requested to contact the Saskatoon Police Service at 306-975-8300.
(Occurrence Number: 19-87511)
ATTACHMENT: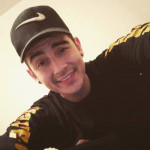 (Click to view full size)