November 11, 2019 4:01 PM




Tanisha MORIN has been located safe and sound. The Saskatoon Police wish to than the media and public for their assistance in this matter.
The Saskatoon Police Service is requesting assistance in locating a 14 year old female.
Tanisha MORIN was last seen leaving her home in the 1200 block of Avenue L South on October 30, 2019 at 7:00 p.m.
She is described as approximately 5'5" tall, 150 lbs, dark shoulder length hair, brown eyes, and a dimple under her left eye. She was last seen wearing a black hoodie with white stripes on the sleeves, black jeans, and blue/black NIKE brand shoes.
A picture is attached for distribution.
Anyone with information on MORIN's whereabouts is asked to call the Saskatoon Police Service at 306-975-8300.
(Occurrence Number: 19-118595)
ATTACHMENT: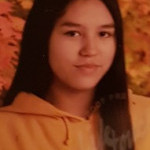 (Click to view full size)