Photo of Matthew MICHEL is attached for distribution.



November 13, 2019 9:31 PM




At approximately 8:40 pm on November 13, 2019, two inmates escaped from the Regional Psychiatric Centre, located in the 2500 block of Central Avenue. Both inmates are considered violent.

The inmates are:

Kendal Lee CAMPEAU, age 29, 5'9", 157 lbs, large neck tattoo from ear to ear, dressed all in white

Matthew Shaundel MICHEL, age 24, 5'5", 146 lbs, dressed all in black

Residents in the area are encouraged to call if they observe any suspicious persons in the area, and to ensure that their premises and vehicles are secure, including removing any spare keys that may be left in the vehicle.

More information will be shared when it becomes available.

Anyone with information is asked to contact the Saskatoon Police Service at 306-975-8300 or Crime Stoppers at 1-800-222-8477.
(Occurrence Number: 19-121326)
ATTACHMENT: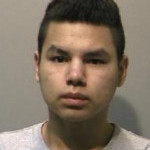 (Click to view full size)