November 27, 2019 1:36 PM




The Court Info Number in this case is 991110047.

Ernest Jimmy is expected to appear before a Justice of the Peace tonight.



November 27, 2019 9:20 AM




Ernest Jimmy was located and arrested this morning at a home in the 300 block of Douglas Crescent.

Patrol officers took him into custody at 7:40 a.m., November 27, 2019. During the arrest, a foot pursuit took place between Police and Jimmy, and a Conducted Energy Weapon (CEW) was deployed. Paramedics assessed Jimmy on scene prior to Police transporting him to Detention, where he remains. As with all CEW deployments, this incident will be reviewed in accordance with policy.

The Saskatoon Police Service would like to thank members of the public and media for their assistance in this matter.
Saskatoon Police are requesting public assistance in locating a man wanted in relation to a sexual assault investigation.
An arrest warrant has been issued for Ernest JIMMY, DOB 1978-06-21. He is facing charges of Sexual Assault, Administering a Noxious Substance, Assault Causing Bodily Harm and Forcible Confinement with a Firearm.
He is described as 6' in height, 200 lbs with a medium build. He has black hair and brown eyes.
A photo is attached for distribution.
Anyone with information on the whereabouts of Ernest Jimmy is asked to contact Saskatoon Police at 306-975-8300 or Crime Stoppers at 1-800-222-8477.
(Occurrence Number: 19-112549)
ATTACHMENT: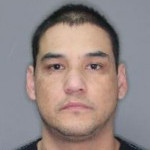 (Click to view full size)